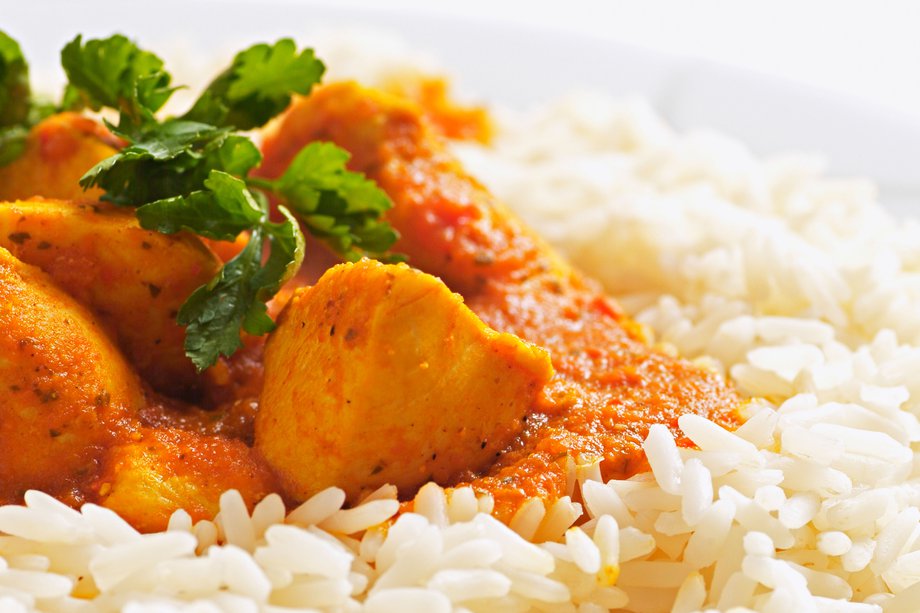 Spice up your mealtime with this simple and tasty chicken curry dish. It's a family favourite – just be aware that this recipe is medium fat rather than low fat.
Serves: 2
Time: 60 minutes
Ingredients
Curry
1 tbsp olive oil (or vegetable oil)
1 large onion, chopped
2 garlic cloves, chopped finely
1 large tomato, chopped
1 tbsp tomato purée
1 medium chilli, chopped
¼ tsp chilli powder
¼ tsp coriander powder
¼ tsp cumin powder
¼ tsp turmeric powder
2 tbsps water
250g boneless chicken, chopped (approx. 1 chicken breast)
1 tbsp lower-fat yoghurt
pepper, to taste
130g basmati brown rice, uncooked
160g cauliflower
Garnish
2cm cube of ginger, finely chopped
1 tbsp chopped fresh coriander
Method
Heat the oil and fry the onions until soft. Add garlic, tomato, tomato purée, chopped chilli and spices. Cook for a few minutes and then add 2 tablespoons of water and allow to reduce.
Add chicken and cook for 10 to 15 minutes on a medium heat, then add the yoghurt, stirring slowly. Season with black pepper and simmer for a further 5 to 10 minutes.
Meanwhile, cook the rice following the packet instructions and boil or steam the cauliflower until tender.
Garnish the curry with ginger and coriander.
Serve with rice and cauliflower.
Nutrition information
Nutrient
Per 100g
Per 533g serving
Energy 479kJ/114kcal 2551kJ/605kcal
Protein 8.9g 47.3g
Carbohydrate 12.4g 66.2g
(of which sugars) 1.7g 8.9g
Fat 3.5g 18.7g
(of which saturates) 0.8g 4.4g
Fibre 0.7g 3.6g
Sodium 0.02g 0.1g
Salt 0.1g 0.3g
These figures apply for 180g of cooked basmati rice and 80g cauliflower per portion.
Allergy advice
This recipe contains
milk
.